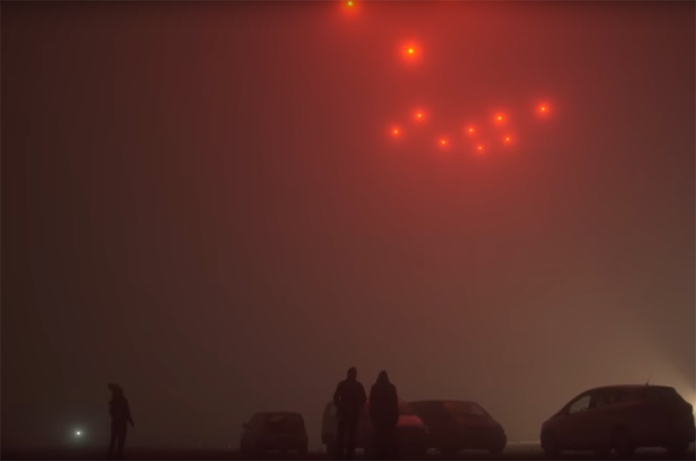 The creative minds dreamed up new possibilities, new future, new technologies and turn many into realities. Say bye to the traditional fireworks, Intel has created the Shooting Star drone, designed specifically for light shows.
In the recent Pepsi Zero Sugar Super Bowl, Intel Corp collaborated with the NFL, Pepsi and six-time Grammy-winning music icon, Lady Gaga, to create a spectacular light show experience. Three hundred of these drones lighted up the sky over Lady Gaga in a choreographed aerial performance. You may check out the Pepsi Halftime Show here.
One Pilot, 500 Drones
The drone is made to be lightweight with a propeller cage to be flown safely and securely. With their virtually limitless color combinations and a Part 107 waiver from the FAA to fly the fleet of drones, beautifully choreographed images in the night time sky are made possible.
The clever automated system makes the Shooting Star fleet easy to operate and control with just one pilot using a laptop. The system checks each drone before its flight and selects the most optimized drones based on its battery level, GPS reception, and other factors.
Optimized Animation
Programmers had to map the path for each drone previously to create animations. Now, the system can take almost any picture, and the software automatically determines the best flight path for the drones. This new hardware and software also allow more drones to fly closer together creating a brighter and more beautiful image.
"Optimized is the best word to describe Intel Shooting Star drones," said Natalie Cheung, light show business lead for Intel. "When designing them, our team thought about everything from the manufacturing process, efficiencies with operating, and safety aspects to the operator and audience perspectives."
A New Guinness World Record
Last year, the computer chip giant put 100 drones in the sky and broke a world record. And in 2016, Intel has set a new Guinness World Record for the most UAVs airborne by flying 500 Shooting Star drones simultaneously in Hamburg, Germany.