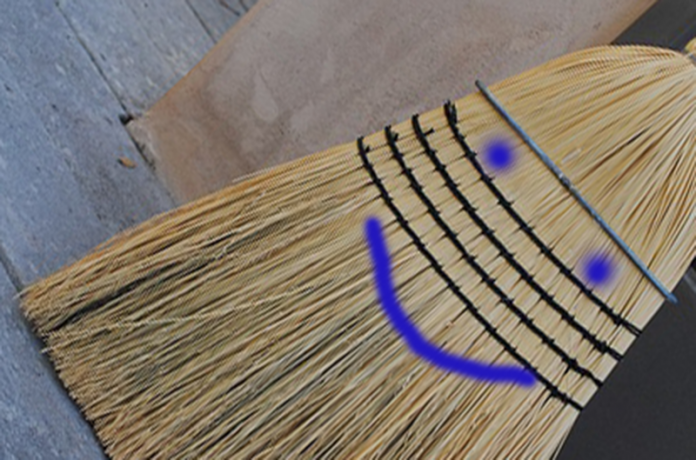 So, time for a break. It was a long morning spent in the garage with Dusty (the dustpan). Both of us were sleeping like logs when we were rudely awakened by a rough clasp from our Owner, right at the crack of dawn!
My Owner – a Carpenter
For days, I had been inhaling sawdust. My Owner has been working on this project – building a rustic harvest-style dining table. Well, I think he is almost halfway through, though it still looks like a piece of a tree trunk to me despite all that sawing and sanding.
Anyway, I have been sweeping for the first half of the day and my stalks of broomcorn are all clogged up with filth. I think a great deal of them fell off amidst the action. Boohoo, I hope I don't go bald soon. My self-confidence will be shot. No offense to the baldies out there.
Broom wasn't always flat
Did you know that I wasn't always flat? My ancestors actually looked like a big long Chinese brush. They were made from a good, round, stiff bundle of sticks, twigs, reeds and other natural fibers – you know the besom brooms that witches are said to ride on? But they had short lives and had to be replaced often. I guess we broom, too, undergo evolution over time. Now our broom corn is secured with wire, flattened with a vice and sewn tight – making us a superior cleaning tool with increased control and broadened surface area.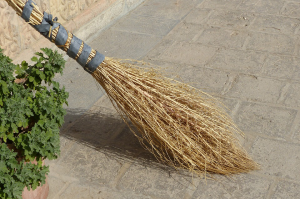 Believe in Dreams
I am also trying to figure out where my life is headed and what the right path would be. Sweeping is so monotonous, so uninteresting, and I want an escape from the humdrum of this life. Have you ever heard of this story called "Room on the Broom"? A kind witch invites a surprising collection of animals to sit on her broom. I yearn to be something like that. Yes, a magical besom broom!
For now, I guess I will stick to the mundane sweeping and just pray that I don't lose too much hair. Dusty tells me that he will be nothing without me around.
Yawn. Tommy is exhausted from all this talking – Time for me to hit the sack and take forty winks. Au revoir.